Casket Flowers
DEDICATION OF LOVE
Funeral Flowers
Shown at $435.00
DEDICATION OF LOVE
FUNERAL FLOWERS
Foliage: Jade, Leather Leaf, Ivy, Sprengeri, Variegated Pittosporum, Red &amp White Lilies (Starfighter), Red Roses.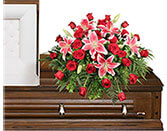 $435.00
Shown at $435.00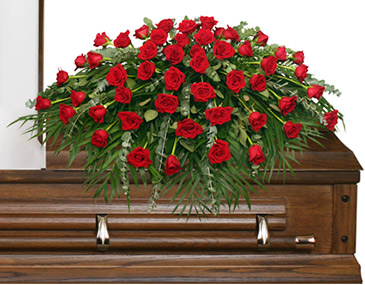 MAJESTIC RED CASKET SPRAY
of Funeral Flowers
Shown at $625.00
MAJESTIC RED CASKET SPRAY
OF FUNERAL FLOWERS
Foliage: Eucalyptus, Leather Leaf, Teepee, Red Roses&nbsp.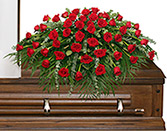 $480.00
$625.00
$750.00
Shown at $625.00
Casket sprays offer a final tribute to a departed loved one. It's beauty and elegance sets the tone of the funeral service. There are two types of casket arrangements: full couch and half couch. Full couch is for a closed casket, and half couch arrangements are typically used for an open casket. Flowers for cremation services are also available. For any type of funeral flowers in the Colorado Springs area, Enchanted Florist II is here to help.